Ross McMullin will deliver the XVII Tom Brock Lecture
Date: Wednesday 16th September 2015
Time: 6 for 6.30 pm
Venue: 99 on York
99 York Street, Sydney 2000
Speaker: Ross McMullin
Topic: 'Retrieving Ted Larkin (1880 – 1915): Outstanding Footballer, Acclaimed Organiser, Original ANZAC'
Abstract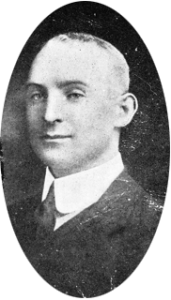 Rugby league in its earliest years displayed clear potential, but success proved elusive until a capable administrator, Ted Larkin, was handed the reins in 1909 when he became the league's first full-time secretary. Larkin is little known today, but it was under his leadership that rugby league advanced from the unpropitious plight it was in when he took over and rapidly became the most popular winter sport in Sydney and beyond.
The 2015 Tom Brock lecture will analyse the vital role of Ted Larkin. It will:
illuminate how he came to be in charge of rugby league;
evaluate how and why he made it successful;
underline how strenuously the rugby league officials tried to retain him even after he moved into another sphere with a spectacular triumph;
and outline what happened to him afterwards — a sequence of events that stirred profound emotion among those familiar with the circumstances.
Speaker biography
Dr Ross McMullin is a historian and biographer whose main interests are Australian history, politics and sport. His book Pompey Elliott won awards for biography and literature. Another biography, Will Dyson: Australia's Radical Genius, was commended by the judges of the National Biography Award. He also wrote the commissioned ALP centenary history The Light on the Hill, and another political history So Monstrous a Travesty: Chris Watson and the World's First National Labour Government.
His latest book, Farewell, Dear People: Biographies of Australia's Lost Generation, is a multi-biography of ten exceptional Australians who died in World War I. Among them is Ted Larkin, who played a significant role in the early years of Rugby League. Farewell, Dear People has been awarded the Prime Minister's Prize for Australian History and the National Cultural Award.