The Tom Brock Bequest
The Tom Brock Bequest, given to the Australian Society for Sports History (ASSH) in 1997, consists of the Tom Brock Collection supported by an ongoing bequest. The collection housed at the State Library of New South Wales, includes manuscript material, newspaper clippings, books, photographs and videos on rugby league in particular and Australian sport in general. It represents the finest collection of rugby league material in Australia. ASSH has appointed a committee to oversee the bequest and to organise appropriate activities in support of the collection from its funds.
Objectives:
To maintain the Tom Brock Collection.
To organise an annual scholarly lecture on the history of rugby league.
To award an annual Tom Brock Scholarship to the value of $5000.
To undertake any other activities which may advance the serious study of rugby league.
To publicise the above activities.
Activities:
The Tom Brock Lecture.
The Tom Brock Scholarship.
Updating the Collection with new material on rugby league.
Responding to ASSH on an annual basis.
Thomas George Brock (1929–1997)
Brian McIntyre
(with some notes prepared by George Franki)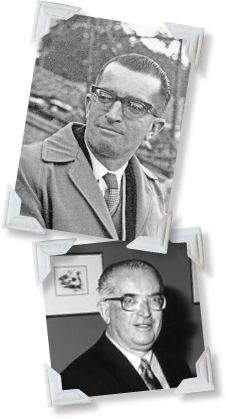 Tom Brock was born on 18 May 1929 in Sydney, the youngest of four children to Sidney (who was a Compositor) and Catherine (home duties) Brock. Tom was educated at St Mary's Cathedral School and Waverley College and remained a member of the 'Old Boys' until his death.
During his formative years Tom developed a love of sports and a penchant for writing. Some of his short stories and poetry were published in Sydney's newspapers. Later on these two interests coalesced. Tom's early hobbies included philately and short wave radio.
Upon leaving school Tom's first job was as a clerk with a company involved in animal husbandry. Shortly afterwards he joined the Commonwealth Scientific and Industrial Research Organisation (CSIRO) in a temporary capacity as a clerk in November 1946, achieving a permanent position several months later. Attached to the salaries section of CSIRO, he rose to the position of Personnel (later Human Resources) Manager through dedicated work and relevant professional qualifications gained through additional studies. During this period he enjoyed both his work and numerous lifelong-friendships made at and outside work. When he left in September 1985 (formally retiring in July 1987), Tom was presented by his CSIRO colleagues with 'The Concise Brocksford Dictionary', a listing of definitions, all starting with the word "Brock", compiled by his work mates. The dictionary was a tribute to the affection his colleagues had for him.
Tom lived his life at Maroubra and in the 1940s Maroubra meant rugby league and South Sydney. Tom became a central figure of the unofficial 'Supporters Club' of avid followers that travelled all over Sydney to watch their beloved Rabbitohs play. During the 1950s Tom began to compile statistical notes of each South Sydney game. Tom's love for the club was infectious and family members were drawn into this supporting network in subsequent decades.
During the 1960s and 1970s the recording of match statistics became an intense preoccupation for Tom. He also expanded his interest in the South Sydney junior ranks, serving on Souths' Schools Committee from 1973. Tom regarded attendance at junior representative, district and school games as mandatory, it was a way of seeking and suggesting new talent for the South's club.
In 1990 Tom was appointed Souths' official Historian and Archivist, the first such position at any New South Wales Rugby League club. He continued to write regular match reports and articles that appeared both in South's publications as well as local newspapers (including Code 13, The Rabbitoh and The Weekly Southern Courier). He was a contributor to The Oxford Companion to Australian Sport. Tom also found time to collaborate with sports writers and historians, both in Australia and overseas, in the publication of books and articles on rugby league. Tom collaborated with Ian Heads in writing of the official history of Souths, South Sydney, Pride of the League, published in 1994—it was his favourite work. In the Author's Note Ian Heads wrote: 'The intricate piecing together of the book represented another magnificent contribution to the South's "cause" by rugby league's finest historian, Tom Brock. The task was made so much easier by Tom's tireless efforts in all aspects of its making.' He also contributed to the Australian section for Englishman Trevor Delaney's 1995 book "The International Grounds of Rugby League" and, additionally, was a researcher for the videos "History of South Sydney" and "That's Rugby League".
In 1994 Tom achieved two honours from the South Sydney Club. He was made a Life Member and was presented with the Spirit of South Sydney Award for outstanding service as an honorary official. He was also recognised by the South Sydney Junior Rugby League Football Club and the New South Wales Rugby League.
In the last ten years of his life Tom was a member of the Australian Society for Sports History (ASSH). He attended the Brisbane conference of the Society in 1995 and helped organise the Sydney branch of ASSH.
While his forte was rugby league, Tom was keenly interested in a variety of sports including athletics, cricket, rugby union and swimming. Tom attended the Melbourne Olympic Games (1956) and the Commonwealth Games at Christchurch (1974) and Brisbane (1982).
Tom Brock was not a top-notch sportsman. He played rugby league and cricket at school and, subsequently, some social tennis. Tom knew his limitations but was well aware of his 'behind-the-scenes' talents. He used these to the best of his abilities, even striving to achieve the best for South Sydney, rugby league and sport in general.
The Tom Brock Collection was initially recorded by Jennifer Bolton, Master of Information Management-Archives/Records, who produced the first catalogue of the Collection. The Collection was housed at the Library of the University of New South Wales until 2006 when it was moved to the State Library of New South Wales. It is a valuable addition to rugby league and sports history.
Tom Brock died on 28 April 1997 at Maroubra. The Tom Brock Collection, commenced in the 1950's, grew from Tom's love of Souths, Rugby League and general sports and his thirst for sporting knowledge. It is a testament to a fruitful life, enjoyed to the full. Tom Brock was an unassuming achiever and an obituary described him as 'one of nature's gentlemen'.
Tom Brock Bequest Committee
The Tom Brock Bequest Committee first met on 21 June 1999. Current Committee members are as follows:
Chair
Andrew Moore
Secretary
Andy Carr
Treasurer
Richard Cashman
Rugby league liaison
Terry Williams
Brock family Representative
John Brock
general members
Michael Adams, Katherine Haines, M. Kazim